One day I woke up and go in the kitchen and make espresso shot for me and then go to dispose of the puck.
Obviously, you go to your bin and when I reached to the bin, I saw too much garbage in the bin and germs gather all around the bin.
Then I search the way that my portafilter is keep away from the germs. And finally, I got the Best Coffee Knock box. When I saw it's only used for Coffee I cheer and order one piece.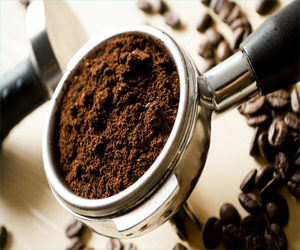 Its design is simple and straight forward function. After the knock box, I couldn't imagine making coffee without one. That's why I'll be listing some of the best coffee knock box for home use.
And are you a new to make espresso this best coffee knock box helped you to knock the pucks out of your portafilter. Basically, knock box is made with Stainless steel and plastic.
Here is the Best Coffee Knock Box. A top pick of Knock Boxes So, if you are just buying a knock box for home or office pick somethings that match with your budget and kitchen area…
Breville BCB100 knock box is big with its stainless-steel body. Its look great in any countertop with an espresso machine. It's 7-1/4 inches body and its tall and perfect for those who pull lots of shots in a day.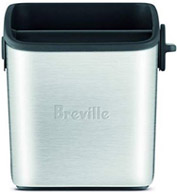 Or those who don't empty their knock box. It's best used for commercial like restaurants Coffee shops.
It has a removable liner which is actually dishwasher safe. And it's wonderful. This Breville Barista knock box is for quick and easy disposal of used coffee grounds. And in the bottom, it has anti-slip rubber grip which makes knock box position same and saves to slide the box on the countertop of the kitchen.
Its made engineering-grade polymers and the bar is sturdy enough and hold up to repeated heavy use. Biggest Complain of the customers is that Breville is too big. But if you have a large kitchen its look good with your Espresso machine.
The body of Grindenstein is made with plastic and the core with stainless-steel becomes the best coffee knock box for coffee lovers. It's small in size and for those who pull a few shots of the days. And it's easily fit on top of the rack of the dishwasher. And you can store it when you are not using your Espresso machine.
Every Grindenstein comes with an informational book who filled with lots of idea of how to recycle the collected coffee grinds as a natural fertilizer for the garden.
Thick and durable rubber sleeve protects the handle. The bar super strong and sturdy enough to quite a lot of knocking.
The bar is not removable as it with other knock boxes have. And this product is small and best for home. The length of this knock box is 10.2cm/4" and the width is 11cm/4.3" and it comes with 3 different colors. Red, Black, and Silver.
I love the Breville company because of its super and amazing products. Here is the best example of Breville is BSE001xl knock box. It's not at the same as Breville BCB100 Because it's small in size.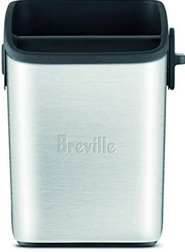 The square design cube and a stainless-steel canister with black upper reduce the visibility of coffee grounds.
The sturdy and ultra-durable knock bar designed for aggressive use. It has anti-slip rubber grip which offers to increase the stability on the countertop. For easy and mess-free disposal of the puck strike the portafilter against the knock box.
Few people say that the ground of this knock box fly up when you knock too aggressively. And this is happening but the majority of the people is happy with this knock box. And this mini Breville product is best for home users. It comes in only one color that is the cons of this product.
Osaka Shock Absorbent is a quality product and stands with the top of the best companies like Breville and Dreamfarm. It has some unique attribute which makes him perfect.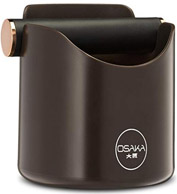 It has the perfect dimension who allows you to use it anywhere. And its body made with ABS Plastic to prevent inside bacterial growth. And built-in rubber-ring which provides a strong gripping surface during using and shifting.
The Bar is removable and the dishwasher is safe. Around the steel bar, there is special coating made from high-quality foam and most of the shock will absorb. In any product of Osaka, there is any defect contact Osaka customer services team that will assist you.
And the all features of this knock box we discuss above is made the perfect choice for buying. Also, the price of this knock box is very feasible as compared to the other knock boxes.
Knock box Classic was started in 1996 and it was the first knock box that JOEFREX Company was designed. JOFREX is one of the finest companies in the market. Its cube-shaped design and made of wood and comes in different wood colors like brown and black.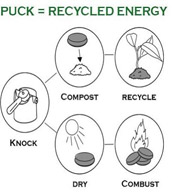 The inside of the knock box is made of PVC which simply lift out simply for disposal and cleaning.
Classic Knock box combines stylish design and minimalism with cleaning and easy handling. The bar of this knock box is also made of hardwood that matches the outer body of the box. This product hasn't changed since it came out in 1996.
The material is used in this knock box is Its outer side is made with painted wood and inside the box used PVC and not for a dishwasher but easy to clean.
Cafelat Tubbi knock box is one of the best Coffee knock box and its design is the same as the Dreamfarm Grindenstein but its capacity is more than the Grindenstein. It's been over a year and gone through different prototype and in the end, made a very simple design.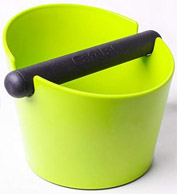 All material used in this knock box is plastic no nuts or bolts are involved.
It's very small but it can hold 10 to 15 double pucks of coffee before it needs emptying. At the bottom, a silicon ring is placed to reduce the noise into one place to another. It also available in 5 different colors and the back is larger than the front of this knock box.
Majority of peoples say that this model is small and I think it's the pros of this model because you placed it everywhere in the kitchen. And now Tubbi is also available in large size.
Another finest knock box is Rattleware. This box is made with heavy duty stainless steel.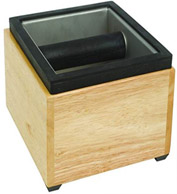 This model is designed for commercial use. The rod of this knock box is made with rubber because when portafilter hit on the top of this bar make no voice or mute and prevent scratches and movement.
It looks fantastic on the countertop with the espresso machine and made with quality material. And the wood is very smooth and well put together. It has a large quantity and keeps using for few days without having to dump for home uses and for commercial use it has a capacity for one day.
The dimension of this knock box is 7.5" x 7" x 4". Replacement rubber bar covers are sold separately. Majority of the people love this knock box because of this capacity, sleek and stylish design and hard body material.
Why we Use a Knock box
Everything we do for the best and there is good reason using a Knock box with your Coffee maker.
When you make a Coffee shot for you pull out the portafilter and then tap the portafilter on the knock box and then washed it for your next time used.
You bought one piece and used for 3 to 4 years easily. I am using in the last 1 year and they are still strong with no damage. People used 5 to 6 year and I am amazed by its durability.
How We Use Knock Box
If you are using Knock box first time there is nothing to learn it's simple and quiet. In the center of the box, there is a bar made with rubber or metal you just remove the portafilter to the Espresso machine and then hit on the top of the bar. Knock box is also called Bash ban.